At DynamicPoint we love the reviews and feedback we receive on how powerful and enjoyable our customer and vendor portal solutions are to use. So why stop now?
Try adding live chat for an even better, more engaging experience. Virtually any chat service can be added directly to the portal home page and it's an easy way to improve your customer response time.
Here are just a few ways you can use a live chat to improve your customer or vendor experience:
Connecting a chat with Accounts Payable or Accounts Receivable can allow users to view invoices directly from your ERP application
Sales Orders can go directly to the Sales or Operations department
Purchase Orders can be directed to Procurement
You can also set up separate chats depending on the data the user is interested in. The options are limitless.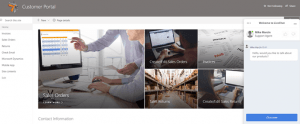 These are just a few ways you can offer your customers and vendors a truly engaging experience. You'll be providing them 24/7 access to all the information that applies to them with direct connection to your staff, so you can answer any questions they have immediately in real time without having to pick up the phone or send an email.
This is yet another benefit of our Portal Application being an Office 365 SharePoint app.  This feature comes direct to you with no additional costs from us. Just sign up for your favorite chat service and simply add the code to your portal page to start engaging your customers and improving your response times. We all expect this type of service as customers– and so do they.
Want to learn more? Check out our recent demo videos, view pricing details or schedule a 1:1 product demonstration.
By Mike Marcin, DynamicPoint
Office 365 Apps for Purchase, Invoice, Expense, & Portal that extend the reach of your ERP & CRM application.