Did you know that despite advancements in technology, up to 52% of field service companies still coordinate their work and perform functions manually [i]? The adoption of automated tools can free up time to concentrate on team development and maximize revenue. In this post, we explore three ways an automated service tool can help increase customer satisfaction and advance your business.
1) Maximize efficiencies and reduce waste
Time spent by employees traveling to customer sites comes at a cost to your business. They are on the clock during this time and yet it's not a billable event for your customers. That's where automated route and traffic mapping can help. And with ERP and CRM integration, you can create and update service orders on-the-go, and respond to customer queries quickly with customer information, service call and billing information at your fingertips.
2) Manage unexpected changes
No matter how carefully a schedule is planned, unexpected and last-minute changes can occur. Automated software solutions can minimize these risks while maximizing efficiencies. Re-optimization happens in real time when changes occur, giving both the employee and customer an immediate update, even down to a specific time slot for an engineer's arrival. You can also notify technicians via text/call/email of new or adjusted service cases, and add workflows and approvals for items changed by customers.
3) Improve team productivity and customer satisfaction
Providing your customers with self-service account access can increase customer satisfaction, ease reporting and payment processing, while also freeing up your service teams to respond to more complex customer requests. Also, a well-optimized schedule can reduce your team's travel-to-work time ratio and increase job-satisfaction levels for field personnel.
Learn more
See how DynamicPoint's fully integrated Customer Portals for Key2Act can advance your business and provide a next level experience for customers. In this free, 30-minute webinar, we'll show you how our service portals leverage the power of Microsoft PowerApps and Flow, creating mobile apps and workflows that automate your service processes and tasks. We'll also provide an overview of our Vendor Portal and EasyAP365, our new, affordable invoice automation app that streamlines accounts payable through flexible submittal methods, OCR, predefined templates and integration to your ERP.
Watch the on-demand webinar now.
If you are interested in learning more about DynamicsPoint's Office 365 Customer Portal check out our demonstration video below or contact us for a more personalized demo for your business.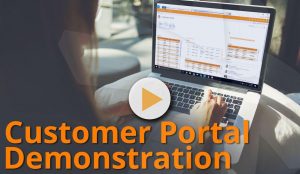 [i] https://www.servicepower.com/blog/top-5-field-service-industry-trends-for-2018