Are you currently getting value out of your existing Employee Expense Management solution? In a post-COVID world, businesses we have spoken to are saying no. The solutions they are using typically charge per user, yet most of their employees are no longer travelling or travelling a lot less. This amounts to wasted investments in an area that is not generating a lot of return, making now a great time to take a step back and reevaluate a better option.
One option is leveraging what you already own. If your company is using Office 365, you already have a robust receipt management system, workflow, and OCR solution at your fingertips. DynamicPoint's expense management app, EasyEXP365, adds to what you already have and offers a fully functional employee expense management platform that offers endless workflow capability and business process adaptability, at a fraction of the cost of competitive solutions.
EasyEXP365 takes advantage of SharePoint libraries and their flexibility for employees to submit receipts into the system. Email, mobile upload, or portal entry are just some of the methods for your employees to capture their receipts. Office 365 OCR and Power Automate workflows automate the recognition of key receipt data and routing of the employee's expense report to managers for approval. Upon final approval, EasyEXP365 integrates the report with your accounting or ERP system for employee reimbursement.
The resulting process looks like this: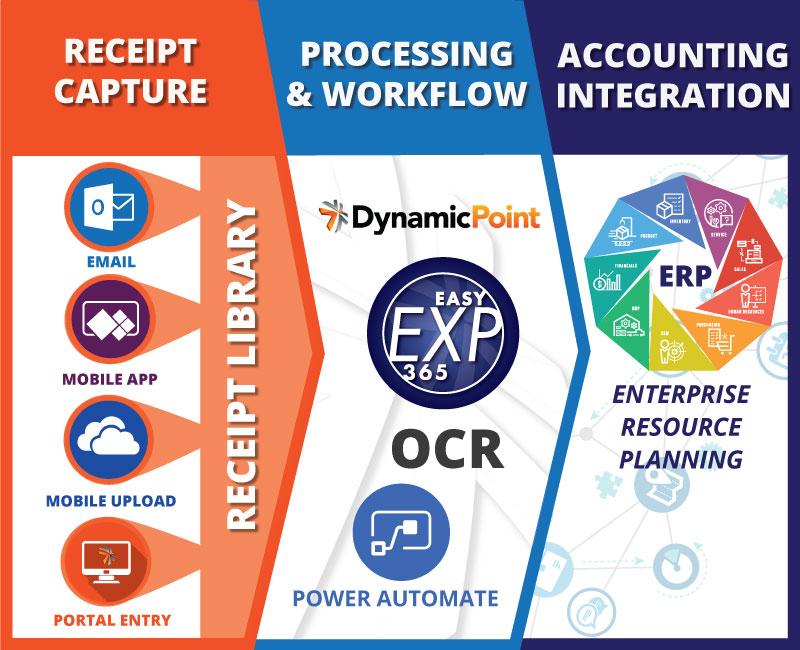 Contact us if you are interested….