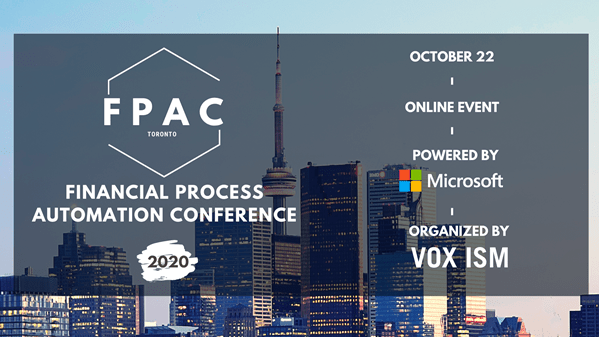 Financial Process Automation Virtual Conference (FPAC)
Financial Process Automation Conference (FPAC) is a Microsoft and VOX ISM hosted conference for Canadian accounting departments to look at how you can automate your accounting processes through advanced software (RPA, AI, IPA, CMP, Workflows, EDI, Customer Portals) to streamline your operations, combat fraud, and have better management reporting.
Explore new technologies in finance, business and accounting at this must-attend financial conference. The FPAC is a one-stop experience that gives you an opportunity to connect with fellow controllers, CFO's, IT managers to discuss best-fit technology solutions for your accounting department & organization.
Key Discussion Topics:
•  Management reporting, KPI's, dashboards, analytics
•  Workflow to automate routine functions, save time
•  Software security in 2020-21
•  Discover how to build and validate AI and machine learning models in a modern accounting department
•  Learn about potential applications and limitations of emerging technologies
•  Discuss strategies to enhance your organization's understanding of emerging technologies
•  Explore how accounting departments can optimize their current processes to prepare for automation
•  Examine techniques to institutionalize automation at an enterprise level
---
•  Explore how your accounting & finance departments can optimize their current processes to prepare for automation
•  Discover how to build and validate AI, BI, and machine learning models in your accounting department
•  Learn about potential applications and limitations of emerging technologies
•  Discuss strategies to enhance your organization's understanding of emerging technologies
•  Examine techniques to institutionalize automation for everyone at your company
•  Management reporting, KPI,s, dashboards and portals – what you can do in 2020 and beyond