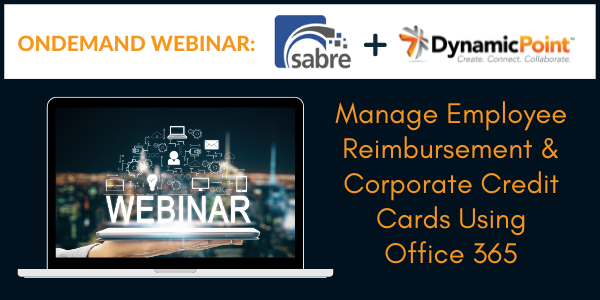 Manage Employee Reimbursement and Corporate Credit Cards Using Office 365
Come join Sabre Limited and DynamicPoint and learn how the EasyEXP365 Employee Expense Management solution (an Office 365-based app from DynamicPoint) leverages the Microsoft Power Platform to automate your employee expense reimbursement, including corporate credit cards.
In this webinar, we will demonstrate key expense management functionality, including:
* Capture receipts using your mobile device or a Power App
* Calculation of mileage reimbursement using Google Maps
* A daily feed with corporate credit card providers
* Integration with Microsoft Power Automate for workflow
* Microsoft Teams for review and approval
Join us for this educational session, where you will learn how our EasyEXP365 product supports the various options of capturing and processing employee expenses and corporate credit cards and saves your organization money by leveraging a platform that you already own.
CATEGORIES
---
RECENT POSTS
---
PARTNER ORGANIZATIONS
---
DynamicPoint is a proud member of the Microsoft Dynamics 365 Community. Click the logo below to see our featured blog.