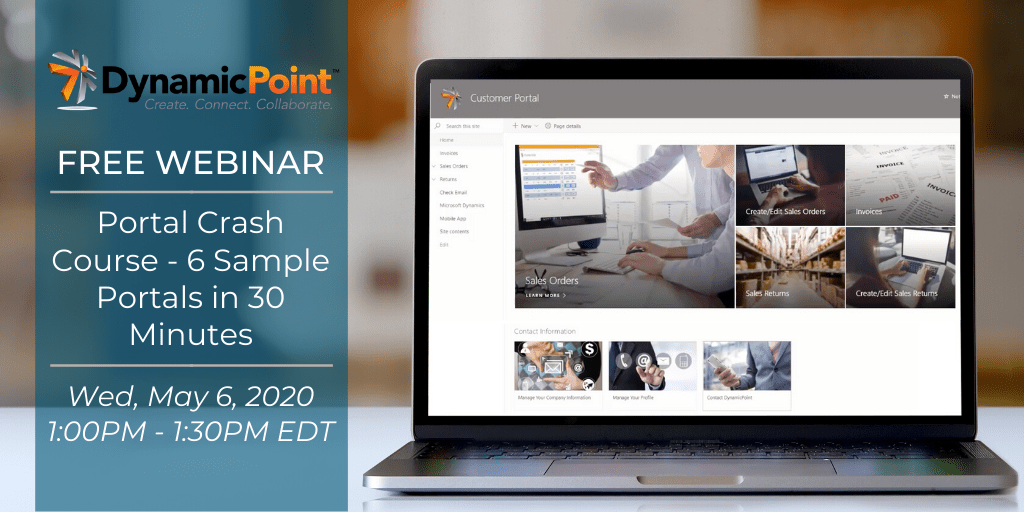 Join DynamicPoint for this informative 30-minute webinar in which we showcase the flexibility and many uses of DynamicPoint's Office 365 Portal Application.  We plan to showcase the possibilities of how you can use this application by featuring the following samples:
Customer Sales Portal – Focused on sharing customer orders and invoices, including order entry.
Vendor Purchasing Portal – Collaborate on purchase orders assigned to vendors, and enable the entry of PO status and shipping details.
Service Portal – Create new service cases and see the status of existing open service requests.
Manufacturing Portal – Share the status of open production orders, bill of material structures and inventory status.
Job Cost Portal – Visibility to open jobs, change requests and subcontractor management.
Vendor Onboarding – Manage the gathering of documentation for new vendor requests, routing for internal approval, and vendor creation in the ERP system.
All of these examples can be achieved by using the same portal application provided by DynamicPoint.  We have learned from experience that a portal means something different to each customer, and our product is built as a configurable, extensible product to accommodate unique requirements.
Learn How to Reduce Costs & Increase Efficiencies – Register Today!
FREE WEBINAR: Portal Crash Course – 6 Sample Portals in 30 Minutes on Wed, May 6, 2020 1:00 PM – 1:30 PM EDT
Can't join the webinar?  View recorded demos and pricing details or schedule a product demonstration.