DynamicPoint's Employee Expense Management Automation application, EasyEXP365, is fully integrated with Microsoft Teams and allows all aspects of the employee expense management process to be managed directly from the Teams App.  Let's take a look at each of these steps and how DynamicPoint leverages Microsoft Teams.
Receipt Capture
Employees can use the Teams interface to capture expense receipts, as well as create expense reports and code the line items to the appropriate expense types.  DynamicPoint's Expense Management application leverages SharePoint libraries for receipt capture.  As SharePoint libraries are available as an app on Teams, receipts can be submitted for processing directly:

Processing
The most challenging aspect of managing employee expenses is making sure the costs get allocated to the correct GL accounts.  While this can occur automatically using OCR, employees can still review the results and ensure their accuracy, as well as add any missing attachments.
Review and Approval
EasyEXP365 uses Microsoft Power Automate to route employee expense reports to the appropriate reviewers based on the approval matrix.  Review tasks assigned to managers can be administered directly from the activity feed or the Approval app in Teams.  That way approvers can review their outstanding expense reports directly from the Teams interface.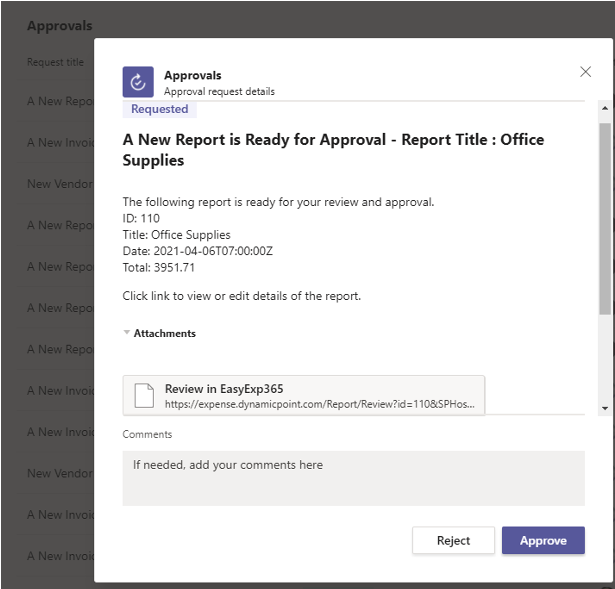 As you can see our integration with Microsoft Teams entails every step in the receipt capture, processing and approval steps included in the automation of employee expense reimbursement.  The last step is the integration of the expense report with the ERP application, which our product performs in a real-time fashion after the last step in the approval process.