An Office 365 SharePoint Solution for Enabling Customer, Vendor and Employee Portals

Information Collaboration
Easy to access and share customer, vendor or employee information from your ERP or CRM systems. The data is secured by displaying only the relevant information for the authenticated user.

By leveraging the Office 365 platform, which provides the foundation for every DynamicPoint portal, Power Automate workflows can be added in conjunction with data collection forms to automate entire business processes.

With 24/7 self-service, customer satisfaction will increase. Partners will have direct connection to your staff, so you can answer any questions they have immediately in real time without having to pick up the phone or send an email.
Add Business Data to Your SharePoint Extranet.
$400
per month
For Initial Site License (Customer or Vendor)
$200
per month
For Additional Site Licenses
One-Time Configuration Packages
Foundation
$4,000 setup fee
Application Install & Site Setup
Basic Branding
View Data
Notifications & Alerts
Portal Add-Ons
Estimate Provided
View, Edit & Create Transactions
Group Security
Custom Data Objects
Multiple Companies
Display ERP / CRM Reports
Payment Gateways
Office 365 Add-Ons
Estimate Provided
Custom Branding
Power Automate Workflow Integration
Customer and Vendor Onboarding
Contract Renewal
Business Automation Workflows
Electronic Signature and Forms
Provide Data, Documents and Reporting
Office 365 SharePoint Extranet Solution

Live Integration with ERP/CRM
Our portal is a window to the business data that exists within your ERP and CRM system. There are no replications or syncs. The data is displayed real-time. Interact with any data including Inventory, Purchasing, Fulfillment, Support, Sales, Accounting, and more. 
Office 365 Based
The product is based on your Microsoft's Office 365 platform. This gives you full access to the suite of products including Microsoft Power Automate for Workflow, Power BI for Analytics, and PowerApps for mobile.

Multi-Purpose: Customer, Vendor, and Employee
The same application can be used to create customer, vendor, and employee portals. It is just a matter of simple configuration to support the intended audience. Any data that is within your ERP / CRM system can be viewed or modified on the portal.

SharePoint Content Management
Leverage SharePoint collaboration tools such as document libraries, workflows, news feeds, asset libraries, blogs, wikis, analytics and so much more.

Report and File Exchange
Generate existing ERP/CRM reports and forms online, e.g. sales orders, invoices, purchase orders, and spec sheets. Files can be downloaded or submitted directly by portal users.

Extensibility
Integrate with Payment Processing, add chat services, include electronic signature… just to name a few. The portal is a platform that you get to mold based on your requirements and aspirations.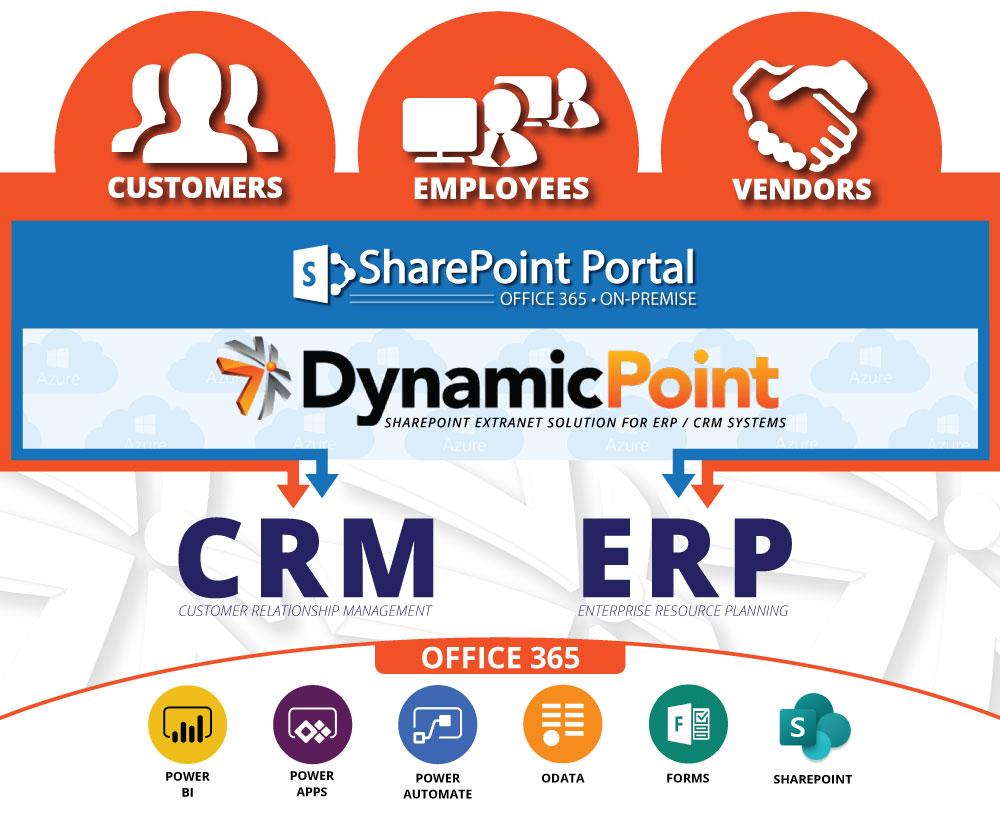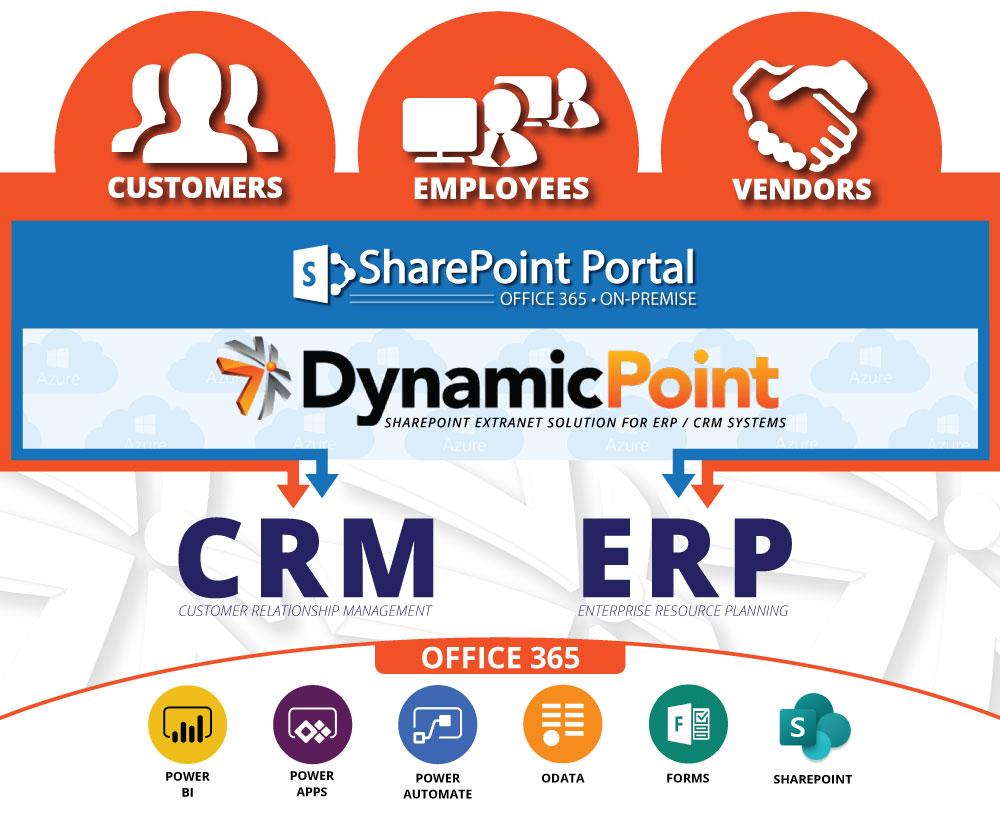 Portal software enables organizations to share information with customers, vendors or employees. DynamicPoint's Portal app enables colloboration within Microsoft Office 365. DynamicPoint's SharePoint Customer & Vendor Portal app allows you to connect to the underlying business data that exists in your ERP, CRM or other proprietary data source. This data is secured and filtered such that only the applicable information is shown for the intended audience.  For example, in a customer portal the desired information can be orders and shipments while in a vendor portal pertinent data may include purchase orders and vendor managed inventory. Permissions are available to enable read, edit or create access to any of the information. Source system reports can be included, as well as integration to other Office 365 features such as workflows, forms and reports.
Portal Recorded Demonstration
Frequently Asked Questions
Where is my data stored?
Your data is stored in the source ERP, CRM, or other database location where it lives. The portal is not replicating data but rather providing a window into this information.
How long does an implementation take?
Our standard implementation timeframe is from 4-6 weeks.
What is our implementation process?
Want to know our process? View our

Implementation Process timeline

!
Is the portal mobile friendly?
Yes, SharePoint modern pages are responsive so therefore the portal can be viewed on a variety of devices.
Does the portal include approval workflows?
Yes, the portal may trigger Microsoft Power Automate to handle your desired approval processes.
Can I set it up myself?
Yes, if you are familiar with Office 365 technology you can configure your own implementation.
Which ERP and CRM systems do you integrate with?
Business Apps
for Office 365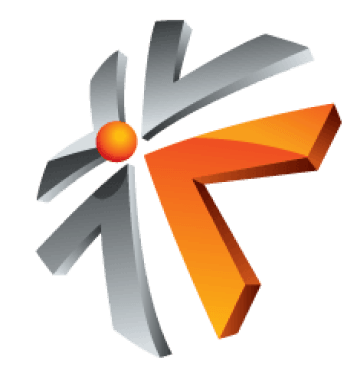 Leverage What You Own to Automate Business Processes