Office 365 Microsoft has shifted SharePoint from being primarily an internal-facing intranet application to a robust platform for extranet collaboration with partners outside of your organization, such as customers or vendors.  This has paved the way for DynamicPoint to develop its portal application, which enhances a standard SharePoint extranet with the integration of the data, reports, and documents from within a company's ERP or CRM system.  More about this topic can be found here.  While the initial desire for such a customer or vendor portal is data collaboration, much more value can be achieved on this platform to ultimately pave the way to automating entire business processes.
Initial Phase
The typical initial desire for any portal is to share data from various sources with the intended users.  This can range from sales orders or invoices for customers to purchase orders and inventory for vendors. The goal being the information is available online, 24-7 on the portal, and a customer or vendor will not have to call someone in a service department to get the answer they are looking for.  In addition to data, this can also include the sharing of reports and documents.  Reports can vary from purchase orders for vendors or invoices for customers.  Documents can range from customer contracts, government forms, technical requirements documentation, etc.
Later Phases
As the portal matures such functionality as notifications and workflow review and approval are generally introduced.  This is an important step in moving the portal from just being the sharing of data to a more interactive platform.  For example, as opposed to customers just having access to their contracts, they will receive a notification upon expiration.  Or in the case of a vendor portal, if a vendor updates expected delivery dates or shipping information, an approval is generated for the operations team to alert them of this change.
The Finish Line
As the ultimate objective of every portal is to improve customer service and decrease costs, the last and final phase is achieving the automation of entire business processes that used to be managed manually.  Examples may include the entire automation of the vendor onboarding or customer contract renewal process.  Freeing up the resources that were previously dedicated to performing these steps manually allows the focus to shift to more valuable activities.
The Microsoft Office 365 platform. together with DynamicPoint's portal application, provide the perfect framework to achieve your company's goal of automating as many business processes as desired. The end solution leveraging these tools will look as follows:

Watch our on-demand webinar and learn how you can leverage a customer, vendor, or employee portal together with Office 365 to automate entire business processes. The options are endless, but to illustrate we will be covering the following examples:
• Vendor Onboarding
• Customer Contract Renewal
• Employee Certification
These are just a few examples of what's possible. The webinar will surely help spark your creativity and your ability to identify other business processes that can be automated for your organization.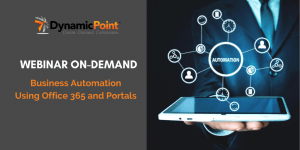 Interested in Learning More About Our Portal?
Visit our Portal product page
Sign up for a Live One-on-One Demo
Why Customers Love DynamicPoint

Kellie and team I really appreciate all your help getting our customer's project sorted out. It may not have been our ideal go live situation with the client's old system going down suddenly, but you have been awesome about very quick responses, and getting things taken care of for us and the client. Thank you.

Brenda N.,
Senior Director, Technology Services | RSM US LLP

IT systems are never perfect. The difference between a good and average (or poor) experience is made when a vendor proves themselves as a true business Partner by ensuring the customer is getting the value they expect from their product, it's this character and culture of their team that validates my decision to partner with DynamicPoint.

Chris E.,
Director of Business and Quality Information Systems | OneBlood, Inc

We have been so impressed with DynamicPoint's solution and their people. They put in the time to make sure they can deliver what they promise," concludes Amy. "You can tell they are very committed to their customers and made me feel like a priority through every question and conversation.

Amy T.,
Sr. Manager Business Applications & IT Support Services | CBORD

DynamicPoint is very knowledgeable, quick turnaround times and great customer service. What they deliver is always what I asked for or more. One of my most favorite vendors!

Shannon I.,
Glidewell Laboratories

Great expertise with both Microsoft Dynamics GP and SharePoint. DynamicPoint was very responsive and professional throughout the engagement. The product was exactly what was desired, and was bug free upon delivery. I highly recommend working with DynamicPoint for any GP customization or SharePoint development.

Ron T.
T.D. Williamson Inc.