DynamicPoint portals allow for easy access and the sharing of customer, vendor, or employee information from your ERP or CRM systems. The data is secured by displaying only the relevant information for the authenticated user. By leveraging the Office 365 platform, which provides the foundation for every DynamicPoint portal, Power Automate workflows can be added in conjunction with data collection forms to automate entire business processes. With 24/7 self-service, customer satisfaction will increase. Partners will have direct connection to your staff, so you can answer any questions they have immediately in real-time without having to pick up the phone or send an email.
All of the following portal examples can be achieved by using the same portal application provided by DynamicPoint. We have learned from experience that a portal means something different to each customer, and our product is built as a configurable, extensible platform to accommodate these unique requirements.
Customer Sales Portal– Focused on sharing customer orders and invoices, including order entry
Vendor Purchasing Portal– Collaborate on purchase orders assigned to vendor, and enabling the entry of PO status and shipping details
Service Portal – Create new service cases and see the status of existing open service requests
Manufacturing Portal – Share the status of open production orders, bill of material structures, and inventory status
Job Cost Portal – Visibility to open jobs, change requests, and subcontractor management
Vendor Onboarding – Manage the gathering of documentation for new vendor requests, routing for internal approval, and vendor creation in the ERP system
Take a tour of the various portal options available by accessing our portal presentation here or watch the on-demand video where we further showcase the possibilities of how you can use this application.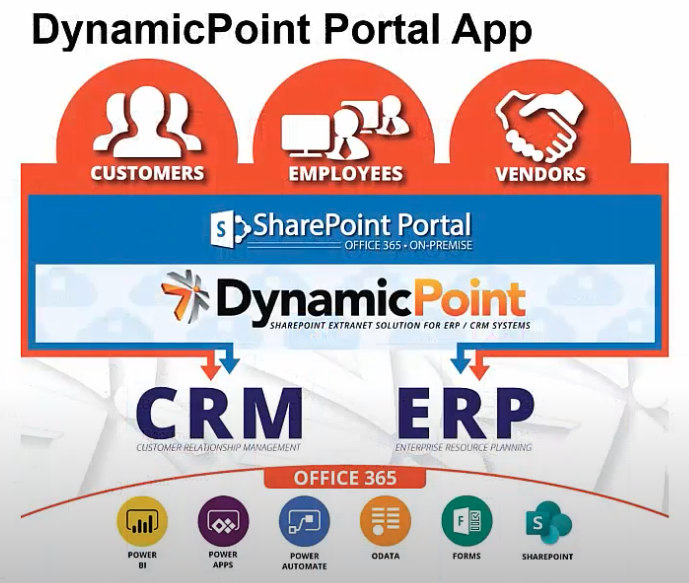 Why Customers Love DynamicPoint

Kellie and team I really appreciate all your help getting our customer's project sorted out. It may not have been our ideal go live situation with the client's old system going down suddenly, but you have been awesome about very quick responses, and getting things taken care of for us and the client. Thank you.

Brenda N.,
Senior Director, Technology Services | RSM US LLP

IT systems are never perfect. The difference between a good and average (or poor) experience is made when a vendor proves themselves as a true business Partner by ensuring the customer is getting the value they expect from their product, it's this character and culture of their team that validates my decision to partner with DynamicPoint.

Chris E.,
Director of Business and Quality Information Systems | OneBlood, Inc

We have been so impressed with DynamicPoint's solution and their people. They put in the time to make sure they can deliver what they promise," concludes Amy. "You can tell they are very committed to their customers and made me feel like a priority through every question and conversation.

Amy T.,
Sr. Manager Business Applications & IT Support Services | CBORD

DynamicPoint is very knowledgeable, quick turnaround times and great customer service. What they deliver is always what I asked for or more. One of my most favorite vendors!

Shannon I.,
Glidewell Laboratories

Great expertise with both Microsoft Dynamics GP and SharePoint. DynamicPoint was very responsive and professional throughout the engagement. The product was exactly what was desired, and was bug free upon delivery. I highly recommend working with DynamicPoint for any GP customization or SharePoint development.

Ron T.
T.D. Williamson Inc.