An Office 365 Based Accounts Payable Invoice Automation Solution

Capture vendor invoices with flexible and numerous methods, including; from email, check request, mobile app or vendor portal options. Extract key data using OCR and predefined app templates for automation with live integration to your ERP solution.

Robust and Cost Effective
By using your existing Office 365 subscription in conjunction with SharePoint and Microsoft Power Automate, you can achieve a robust invoice automation system with lower costs to your company.

We have built in integration with Microsoft Power Automate workflows, SharePoint security and design, Power App check requests, integrated OCR and Microsoft Forms vendor on-boarding. All this using a platform that you most likely already own.
Learn How EasyAP365 Automates Your AP Invoice Processing.
$.75
per invoice
Initial 250-500 Invoices per month
$.65
per invoice
Next 1,000 Invoices over initial 500 per month 
$.45
per invoice
Next 2,000 Invoices over first 1,500 per month
*All prices listed in USD. Add OCR for $.25 per invoice. Yes, we can handle more invoices. Please contact us. Want a custom quote? Complete our requirements gathering.
One-Time Configuration Packages
Foundation
$5,000 setup fee
Application

Install

& Site Setup
Email & Upload Invoice Submission
Basic Accounting Setup
Standard Workflow Approval Template
Starter Vendor Template & Auto-Create Configuration
Real Time

ERP Integration

with Drill Back for Non-PO & PO Invoices
EasyAP365 Add-Ons
Estimate Provided
Multiple ERP Companies
Multi-Currency
Tax Accounting
User Defined Fields
Complex Accounting Setup
Additional Vendor & Invoice Auto-Create Templates
Custom ERP Mapping
Office 365 Add-Ons
Estimate Provided
Check Request &/or Mobile Invoice Submission
Complex Approval Processes
Separate PO/Non-PO Workflows
Vendor OCR Templates
New Vendor Onboarding
Power BI Reporting, KPIs and Accrual Reporting
Additional System Integrations
Vendor Portal
Confused on pricing? Click here for our calculator.
Automate Your
Invoice Processing
Office 365 Invoice Automation Solution

Live Integration with ERP
Our EasyAP365 app is integrated with your ERP system. When the invoice is approved it immediately creates the appropriate transaction in real-time and supports both Purchase Order and Non-PO invoices.
Office 365 Based
The product is based on your Microsoft's Office 365 platform. This gives you full access to the suite of products including Microsoft Power Automate for Workflow, SharePoint for integrated OCR, Power BI for Analytics and Power Apps for mobile.

Automation Templates
Create unlimited allocation templates for both Purchase Order and Non-PO invoices based on vendors, departments, projects, etc… to auto-populate information and eliminate manual entry.
Check Request and Vendor Onboarding
The solution can accommodate diverse business processes such as vendor onboarding processes as well as internal check request invoice submittal.

OCR (Optical Character Recognition)
OCR is performed on the invoices to extract key information that can be used for workflow, routing and integration.

Microsoft Teams Integration
Fully integrated with Microsoft Teams, allowing all aspects of the submission, processing, and review and approval to be managed directly from the Teams App.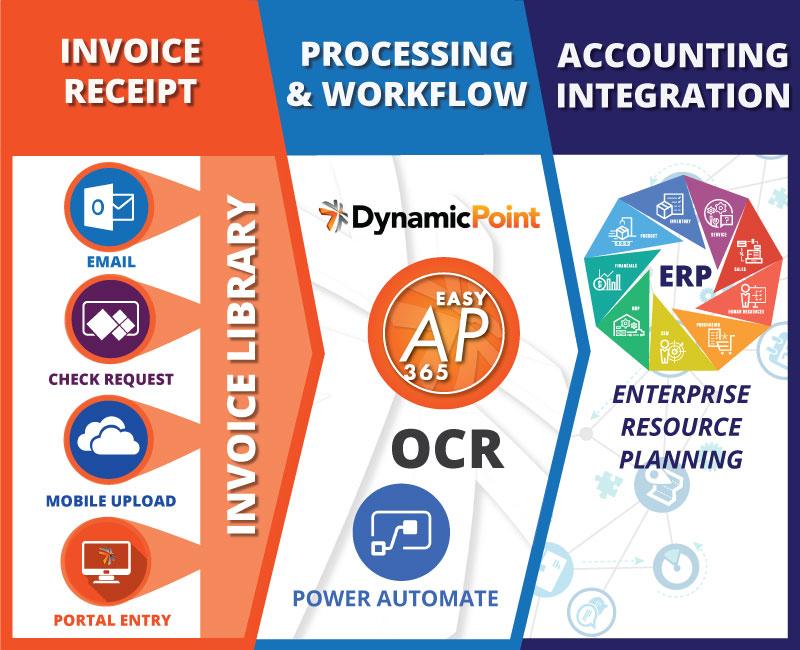 What is Invoice Automation?
Accounts payable invoice automation (AP Automation) software enables organizations to efficiently process vendor invoices using Optical Character Recognition (OCR), automated workflows, and enterprise resource planning (ERP) integration. DynamicPoint's EasyAP365 enables invoice automation within Microsoft Office 365. The EasyAP365 App manages the following three steps in the process: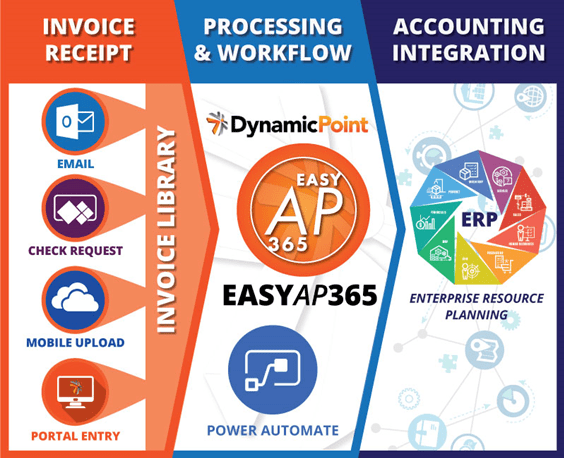 Invoice Receipt – Supports various invoice submission methods from email and portal upload to internal check request
Invoice Processing – OCR data extraction, review and approval of the invoice, accounting assignments and application of vendor templates
Integration – Automatic integration of the either PO or non-PO invoice with most market leading

ERP

applications
EasyAP365 Recorded Demonstration
Frequently Asked Questions
Why use Office 365 for AP Invoice Automation?
Microsoft Office 365 and the Power Platform provide the perfect framework as all of the building blocks of invoice automation are already there and our customers already own them. EasyAP365 harnesses Office 365 features to provide a better solution at a lower cost than the competition. Invoices are stored in SharePoint libraries and lists, workflow is provided by Power Automate, collaboration by Teams, security by Azure AD, mobility by Power Apps, and reporting by Power BI. All of these products are the foundation of our customer's business as well as our invoice automation application.
Where is my data stored?
All your data is stored securely in your Office 365 tenant, either cloud based or on-premise. Our solution passes such standards as HIPAA and The Personal Information Protection Act (PIPA).
How long does an implementation take?
Our standard implementation timeframe is from 1-2 to months. This can of course vary based on requirements and complexity.
What is our implementation process?
Click here to view our Implementation Process timeline!
Is there a mobile app?
Yes, invoices can be submitted or reviewed from a mobile app. All of invoice automation including the submission, review and processing of invoices can occur from a mobile phone.
Does EasyAP365 include approval workflows?
Yes, EasyAP365 may trigger Microsoft Power Automate to handle your desired approval processes.
Can I set it up myself?
Yes, if you are familiar with Office 365 technology you can configure your own implementation.
Can I enter invoices directly from Office 365?
Yes, EasyAP365 works within Office 365 so you don't have to log in and out of apps. This includes the use of emails, Teams, or check request submission of vendor invoices.
How well does OCR work?
DynamicPoint has partnered with the best and most reliable Office 365 OCR tools in the marketplace and embedded their features in EasyAP365. If you want try and see for yourself, upload your own invoices here.
Which ERP systems do you integrate with?
Check out our EasyAP365 ERP integration page for the full list of ERP applications integrated with our EasyAP365 product. Please contact us if you don't see yours.
Business Apps
for Office 365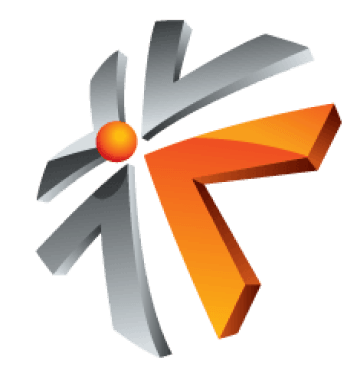 Leverage What You Own to Automate Business Processes