An Office 365 Based Employee Expense Management Solution

EasyEXP365 Employee Expense Management automates the entry, review and approval of expense reports without the high cost and complexity of other solutions.

Robust and Cost Effective
Utilizing SharePoint's document libraries, Power Automate workflow and Power Apps mobile entry, the product provides a familiar, easy to use app at a fraction of the cost of competitive solutions while not sacrificing functionality.

The app fits within your existing ecosystem to provide a unified user experience that embraces the wealth of features the Microsoft Power Platform provides. All this using a subscription that you most likely already own.
Learn How EasyEXP365 Automates Employee Expense Management.
$300
per month
Initial 50 Expense Reports per month
$2.00
per report
Next 100 Expense Reports over initial 50 per month
$1.00
per report
Next 200 Expense Reports over first 150 per month
One-Time Configuration Packages
Foundation
$4,000 setup fee
Application

Install

& Site Setup
Desktop Expense Report Submission
Basic Accounting Setup
Standard Workflow Approval Template
Mobile App Receipt Capture
Corporate Policy Rule & Auto-Create Configuration
Google Map Mileage Rate Calculation
Real Time

ERP Integration

with Drill Back
EasyEXP365 Add-Ons
Estimate Provided
Multiple ERP Companies
Multi-Currency
Tax Accounting
User Defined Fields
Complex Accounting Setup
Additional Policy Rule & Auto-Create Templates
Corporate Credit Card Integration
Custom

ERP

Mapping
Office 365 Add-Ons
Estimate Provided
Mobile App to Specification
Complex Approval Processes
New Employee Onboarding
Power BI Reporting, KPIs and Accrual Reporting
Additional System Integrations
Confused on pricing?  Check out our

calculator

!
Automate The Management
Of Employee Expenditures
Office 365 Employee Expense Management Solution

Live Integration with ERP
Our EasyEXP365 app is integrated with your ERP system. When an expense report is approved it immediately creates the appropriate transaction in real-time using web services.
Office 365 Based
The product is based on your Microsoft's Office 365 platform. This gives you full access to the suite of products including Microsoft Power Automate for Workflow, SharePoint for integrated OCR, Power BI for Analytics and Power Apps for mobile.

Corporate Credit Card
Assignment of credit card transactions to employees such that they can code to the appropriate GL account and add receipts. Transactions integrated as journals to reflect appropriate expense classification.

Mileage Calculation
Automatic calculation of mileage travel reimbursement with Google Map integration. Configuration to support rate updates as well as different employee groups.

OCR (Optical Character Recognition)
OCR is performed on the receipts to extract key information that can be used for workflow, routing and integration.

Microsoft Teams Integration
Fully integrated with Microsoft Teams, allowing all aspects of the report creation, processing, and review and approval to be managed directly from the Teams App.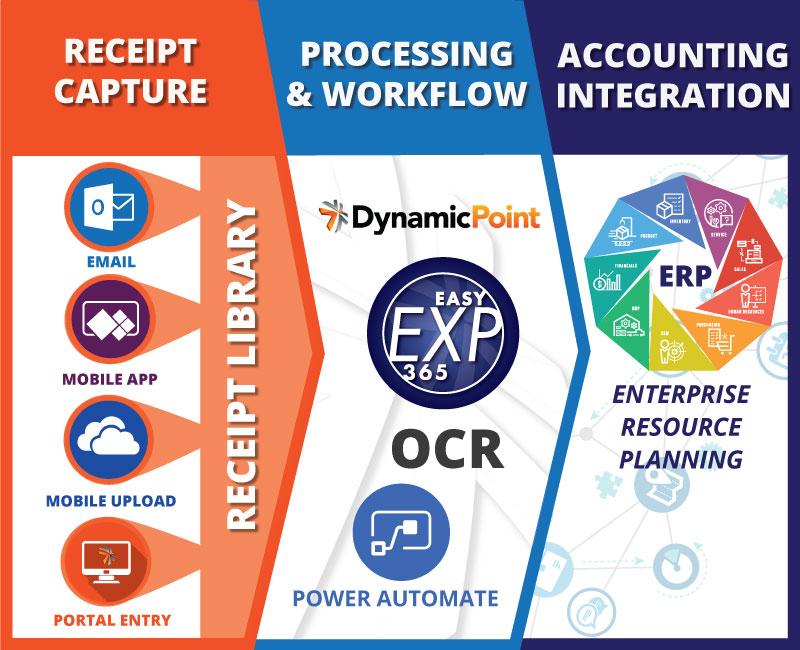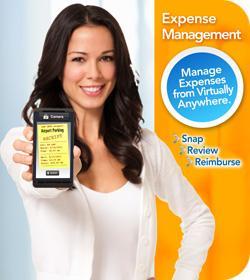 Employee Expense Management software enables organizations to efficiently capture and reimburse employee expenses using mobile apps, Optical Character Recognition (OCR), automated workflows, and enterprise resource planning (ERP) integration. DynamicPoint's EasyEXP365 enables employee expense management within Microsoft Office 365. The EasyEXP365 App manages the following three steps in the process:
Receipt capture – Supports image upload or mobile app capture of incurred employee expenditures
Processing – OCR data extraction, review and approval of the expense report, mileage reimbursement calculation, accounting assignments and corporate credit card processing
Integration – Automatic integration of the expense report with most market leading

ERP

applications
Frequently Asked Questions
Where is my data stored?
All your employee expense data is stored securely in your Office 365 tenant.
How long does an implementation take?
Our standard implementation timeframe is from 1-2 to months.
What is our implementation process?
Want to know our process? View our

Implementation Process timeline

!
Is there a mobile app?
Yes, employee expenses can be submitted or reviewed from a mobile app.
Does EasyEXP365 include approval workflows?
Yes, EasyEXP365 may trigger Microsoft Power Automate to handle your desired approval processes.
Can I set it up myself?
Yes, if you are familiar with Office 365 technology you can configure your own implementation.
How well does OCR work?
DynamicPoint has partnered with the best and most reliable Office 365 OCR tools in the marketplace and embedded their features in EasyEXP365. If you want try and see for yourself, upload your own receipts here.
Which ERP systems do you integrate with?
Business Apps
for Office 365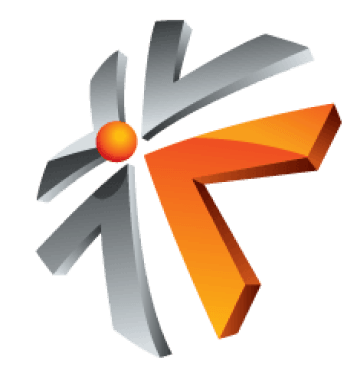 Leverage What You Own to Automate Business Processes