DynamicPoint has expanded the list of ERP applications that are supported with its Office 365 Invoice Automation Application. We are now proud to say our EasyAP365 Invoice Automation Application can be used seamlessly with the following systems:
Microsoft Business Central
Microsoft Dynamics NAV
Microsoft Dynamics GP
Microsoft Finance and Operations
SAP, Business One, ByDesign, and NetWeaver Gateway
Oracle
Sage 200, 300, Cloud, and Intacct
Acumatica
Epicor
NetSuite
QuickBooks
One of the key criteria when evaluating any Invoice Automation system is whether or not it works with your ERP/Accounting Application. How well the systems communicate with each other will determine if information needs to be synchronized between the two, or if a real-time integration exists.
DynamicPoint's preference is to leave all master data that is managed by the ERP system, in the ERP system.  This includes vendor records, shipments, and purchase orders. As opposed to synchronizing this information, we query it directly from the system of record. When an invoice is approved and ready to be integrated, we call the product's Application Program Interface (APIs) to automatically create the invoice in a real-time fashion. This is preferred to an export and import process that requires manual steps, duplicate data, and leaves the process open to inconsistency and errors.
Given our preference of real-time integration, we have mapped our Office 365 based AP Invoice Automation, EasyAP365, to several leading ERP and accounting systems. We leverage the industry standard in integration methodologies, namely using REST-based ODATA endpoints. As some systems don't provide REST-based services natively, we leverage our partnership with a data access and connectivity company by the name of CDATA Software that provides standard adapters to leading ERP and accounting systems.
Don't see your system on the list, please give us a call to discuss.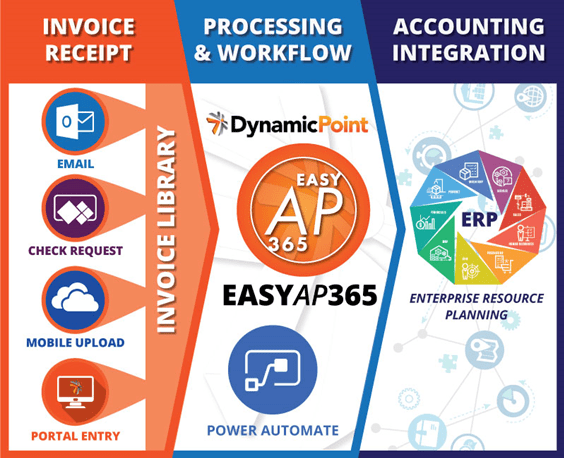 Why Customers Love DynamicPoint

Kellie and team I really appreciate all your help getting our customer's project sorted out. It may not have been our ideal go live situation with the client's old system going down suddenly, but you have been awesome about very quick responses, and getting things taken care of for us and the client. Thank you.

Brenda N.,
Senior Director, Technology Services | RSM US LLP

IT systems are never perfect. The difference between a good and average (or poor) experience is made when a vendor proves themselves as a true business Partner by ensuring the customer is getting the value they expect from their product, it's this character and culture of their team that validates my decision to partner with DynamicPoint.

Chris E.,
Director of Business and Quality Information Systems | OneBlood, Inc

We have been so impressed with DynamicPoint's solution and their people. They put in the time to make sure they can deliver what they promise," concludes Amy. "You can tell they are very committed to their customers and made me feel like a priority through every question and conversation.

Amy T.,
Sr. Manager Business Applications & IT Support Services | CBORD

DynamicPoint is very knowledgeable, quick turnaround times and great customer service. What they deliver is always what I asked for or more. One of my most favorite vendors!

Shannon I.,
Glidewell Laboratories

Great expertise with both Microsoft Dynamics GP and SharePoint. DynamicPoint was very responsive and professional throughout the engagement. The product was exactly what was desired, and was bug free upon delivery. I highly recommend working with DynamicPoint for any GP customization or SharePoint development.

Ron T.
T.D. Williamson Inc.