DynamicPoint's Office 365 apps for Portals, Invoice Automation, and Expense Management offer many ERP / CRM integrations.  This flexibility is achieved by leveraging the industry standard of integration methodologies, namely ODATA.  So what is ODATA? The technical answer as stated on the foundation's site is "OData (Open Data Protocol) is an ISO/IEC approved, OASIS standard that defines a set of best practices for building and consuming RESTful APIs".  The article goes on to state "OData helps you focus on your business logic while building RESTful APIs without having to worry about the various approaches…"  The main point is that ODATA allows applications, like ours, to integrate with many systems without having to define approaches that are unique to every system out there.  Simply put, it is a standard.  Think about your hairdryer.  I can travel to any hotel (in a given country) and can plug it in.  That is because each country has established its own standard for outlets.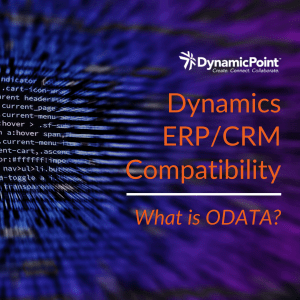 When DynamicPoint's product designers sat down to engineer its suite of applications, the obvious choice was to leverage this standard.  This approach has enabled the company to rapidly support various ERP / CRM systems in offering its suite of Office 365 applications.  Although the ODATA standard has been around for over 13 years, things take a while to catch on.  Most all of the new releases for ERP / CRM systems natively include the option for ODATA.  This allows DynamicPoint products to work across a wide spectrum of products, offering seamless integration with little effort.   But what about those products that have been around for a while?  Not all of them have ODATA available.  One such example is Microsoft Dynamics AX 2012.  While Microsoft now offers ODATA web services for its new product, Dynamics 365 for Finance and Operations (FO), Dynamics AX 2012 is a little more of a challenge.   Are we forced to leave these older applications behind?
Luckily for us, the answer is no.  We have partnered with a leading integration company by the name of CDATA Software.  The company produces an entire suite of drivers that provide ODATA web services for numerous applications that don't provide them.  And since DynamicPoint has already partnered with this company, these options are available to our customers at no additional cost.  You can browse their extensive list of drivers here to find your ERP, CRM, or legacy database system.
So are you wondering if our applications can work with your system?  Please give us a call or schedule a meeting to discuss.
Why Customers Love DynamicPoint

Kellie and team I really appreciate all your help getting our customer's project sorted out. It may not have been our ideal go live situation with the client's old system going down suddenly, but you have been awesome about very quick responses, and getting things taken care of for us and the client. Thank you.

Brenda N.,
Senior Director, Technology Services | RSM US LLP

IT systems are never perfect. The difference between a good and average (or poor) experience is made when a vendor proves themselves as a true business Partner by ensuring the customer is getting the value they expect from their product, it's this character and culture of their team that validates my decision to partner with DynamicPoint.

Chris E.,
Director of Business and Quality Information Systems | OneBlood, Inc

We have been so impressed with DynamicPoint's solution and their people. They put in the time to make sure they can deliver what they promise," concludes Amy. "You can tell they are very committed to their customers and made me feel like a priority through every question and conversation.

Amy T.,
Sr. Manager Business Applications & IT Support Services | CBORD

DynamicPoint is very knowledgeable, quick turnaround times and great customer service. What they deliver is always what I asked for or more. One of my most favorite vendors!

Shannon I.,
Glidewell Laboratories

Great expertise with both Microsoft Dynamics GP and SharePoint. DynamicPoint was very responsive and professional throughout the engagement. The product was exactly what was desired, and was bug free upon delivery. I highly recommend working with DynamicPoint for any GP customization or SharePoint development.

Ron T.
T.D. Williamson Inc.