AP Automation for Microsoft Dynamics NAV
Are you a Dynamics NAV user that is still managing your AP invoices manually using email? Are you having problems finding solutions that still work with Dynamics NAV and fit your budget?  What if there was an option to use software you have already purchased to automate your AP invoices, such as Office 365? That is exactly what DynamicPoint offers.  We have unified Dynamics NAV, Office 365, and our EasyAP365 AP invoice automation app to receive, analyze, assign to management, and integrate a purchase invoice into Dynamics NAV for supplier invoices. All this is done without human intervention and in an automated, electronic manner.
Why Do I need Invoice Automation with Dynamics NAV?
EasyAP365 automate the otherwise manual receipt, processing, approval and Dynamics NAV integration of accounts payable vendor invoices. Purchase Order (PO) invoices are matched direct to the POs that exist within Dynamics NAV. Non-PO invoices are coded to Dynamics NAV general ledger accounts.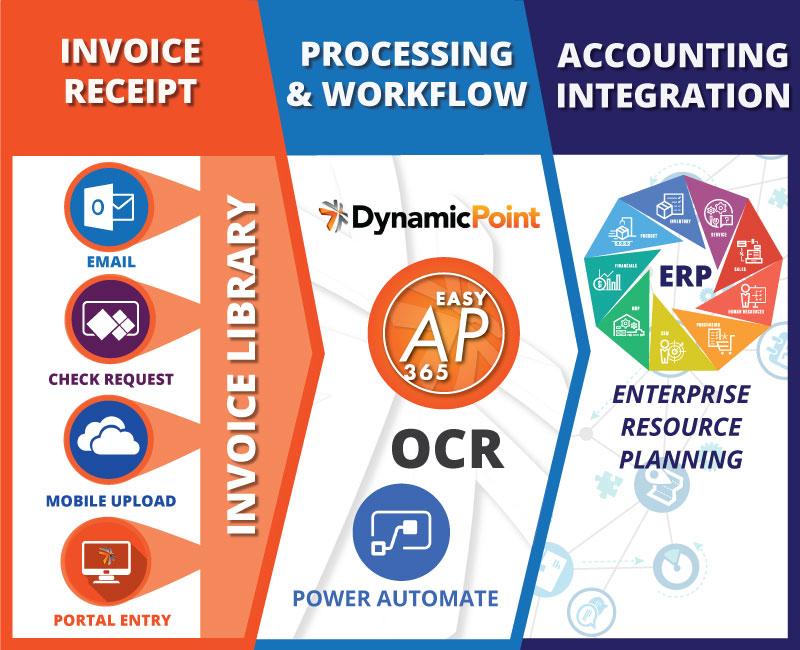 Dynamics NAV Invoice Automation with EasyAP365
How does DynamicPoint's EasyAP365 work with Dynamics NAV?
DynamicPoint's integration with Dynamics NAV was one of the company's very first. All of your accounts payable data continues to reside in Dynamics NAV as the main repository. The application connects to lookup vendors, GL accounts and dimension, and existing invoices using Dynamic NAV's ODATA web services. Upon the final approval of the invoice, we connect to the ODATA page URL to create the transaction in a real-time integration with the purchasing module of Dynamics NAV. That means there are not syncs to maintain or data being duplicated. Our preference is for live integration to deliver seamless Dynamics NAV compatibility without the need for exports and imports.
Want to learn more?
Check out our recent demo videos, view product details or schedule a 1:1 product demonstration.