AP Automation for Oracle NetSuite
Are you a NetSuite user that is still managing vendor invoices using email? Did you think an enterprise grade AP automation solution that integrates with NetSuite was out of your reach? What if there was an option to leverage what you already own to automate accounts payable workflow, namely Office 365? That is exactly what DynamicPoint has accomplished.  We have brought together NetSuite, Office 365, and lastly, our EasyAP365 accounts payable invoice processing application to cost effectively receive, route for approval, and create the appropriate accounts payable transaction in NetSuite for vendor invoices.
Why Do I need Invoice Automation with NetSuite?
EasyAP365 automate the otherwise manual receipt, processing, approval and NetSuite integration of accounts payable vendor invoices. Purchase Order (PO) invoices are matched direct to the POs that exist within NetSuite. Non-PO invoices are coded to NetSuite general ledger accounts.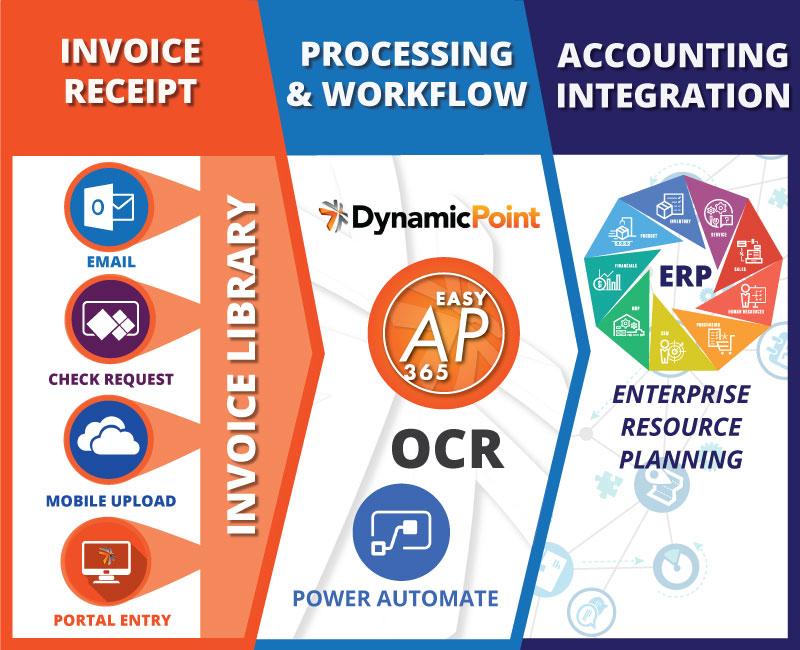 NetSuite Invoice Automation with EasyAP365
How does DynamicPoint's EasyAP365 work with NetSuite?
DynamicPoint's approach is to continue to fully support NetSuite as the accounting system of record. We query vendors directly from the application, validate GL accounts, verify invoices are not duplicates and ultimately create the accounts payable or purchasing transaction directly in NetSuite.  There are no syncs or data being moved from one system to the other.  We instead use live integration to deliver seamless NetSuite compatibility.
Want to learn more?
Check out our recent demo videos, view product details or schedule a 1:1 product demonstration.
Why Customers Love DynamicPoint

I would like to personally thank you for your contributions to the successful implementation of DynamicPoint. Our Chief Information Officer mentioned "Great Work Team.  Thank you for all your efforts.  I received my first invoice for approval.  The experience was awesome!"

Joe Ruiz
Finance Manager – SG360

Kellie and team I really appreciate all your help getting our customer's project sorted out. It may not have been our ideal go live situation with the client's old system going down suddenly, but you have been awesome about very quick responses, and getting things taken care of for us and the client. Thank you.

Brenda N.,
Senior Director, Technology Services | RSM US LLP

IT systems are never perfect. The difference between a good and average (or poor) experience is made when a vendor proves themselves as a true business Partner by ensuring the customer is getting the value they expect from their product, it's this character and culture of their team that validates my decision to partner with DynamicPoint.

Chris E.,
Director of Business and Quality Information Systems | OneBlood, Inc

We have been so impressed with DynamicPoint's solution and their people. They put in the time to make sure they can deliver what they promise," concludes Amy. "You can tell they are very committed to their customers and made me feel like a priority through every question and conversation.

Amy T.,
Sr. Manager Business Applications & IT Support Services | CBORD

DynamicPoint is very knowledgeable, quick turnaround times and great customer service. What they deliver is always what I asked for or more. One of my most favorite vendors!

Shannon I.,
Glidewell Laboratories

DynamicPoint was very responsive and professional throughout the engagement. The product was exactly what was desired, and was bug free upon delivery. I highly recommend working with DynamicPoint.

Ron T.
T.D. Williamson Inc.