AP Automation for Sage Intacct
Are you a Sage Intacct user and still managing vendor invoices using email? Did you think an enterprise grade AP automation solution that integrates with Sage Intacct was out of your reach? What if there was an option to leverage what you already own to automate accounts payable invoice processing, namely Office 365? That is exactly what DynamicPoint has accomplished.  We have brought together Sage Intacct, Office 365, and lastly, our EasyAP365 accounts payable invoice processing application to cost effectively receive, route for approval, and create the appropriate accounts payable transaction in Sage Intacct for vendor invoices.
Why Do I need Invoice Automation with Sage Intacct?
EasyAP365 automate the otherwise manual receipt, processing, approval and Sage Intacct integration of accounts payable vendor invoices. Purchase Order (PO) invoices are matched direct to the POs that exist within Intacct. Non-PO invoices are coded to Intacct general ledger accounts.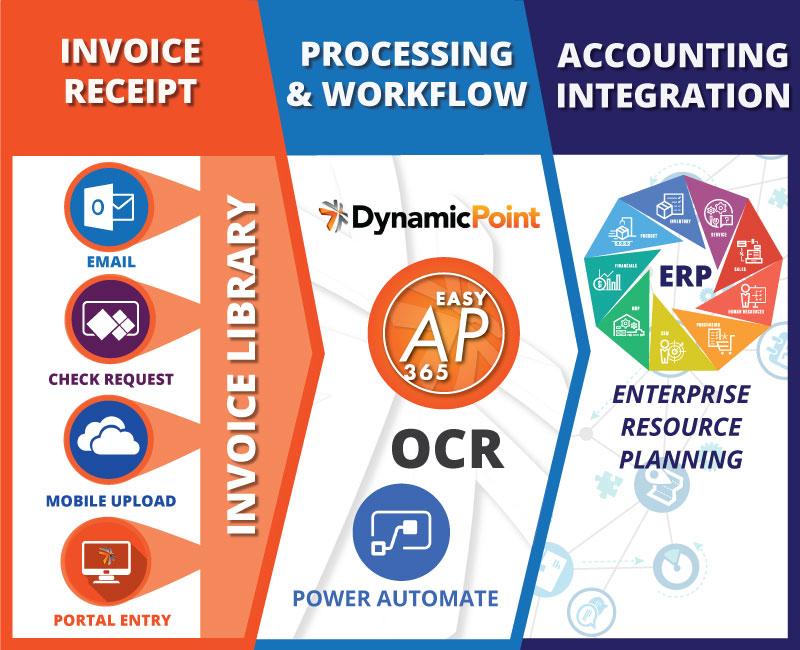 Sage Intacct Automation with EasyAP365
How does DynamicPoint's EasyAP365 work with Sage Intacct​?
With DynamicPoint EasyAP365, Sage Intacct will continue to serve as the system of record. There is no need to manage vendors in our application as we link directly to the vendor list in Intacct. We also perform integrations for GL account validation and invoice duplicate detection. After an invoice is approved it is directly integrated using Sage Intacct's API. This method doesn't require duplicate setup or data synchronization as we offer a live integration to deliver seamless Sage Intacct compatibility. Any transaction that is created in Sage Intacct will contain the attachment to view the originating invoice.
Want to learn more?
Check out our recent demo videos, view product details or schedule a 1:1 product demonstration.