Are you interested in automating your invoice approval process?  If so, have you looked at the various options that exist on the marketplace?  An evaluation of AP automation applications usually entails an assessment of the following functionality:
Ability to receive an invoice from a vendor in various ways, including email, web site, mobile app, scanner, etc.
Workflow to route the invoice for approval
Storage of the documents in a secure fashion that can be managed and reported upon
Collection of data inputs throughout the approval process that determine how the invoice is to be coded to the proper GL account
Notifications when documents have not been paid, managers are taking their time to approve and invoices don't match purchase orders
Verification if budgets exist and if they have they been exceeded
Why rent an apartment when you already own a house?
What if you already own an application that can do all of this for you?  What is that application?  Try Microsoft Office 365 SharePoint.  It contains document libraries for receiving invoices, version control and tracking, workflow for approvals, reports for analytics, reminders including mobile notifications and emails, OCR integration for data extraction, mobile apps for uploads and the list goes on.  And the best part, most of us already own it.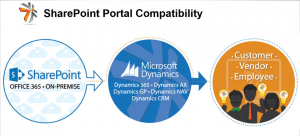 The missing link is the ERP integration and GL coding of the invoice after it has been approved.  That is where DynamicPoint's EasyAP365 app comes in.  It provides the last piece of the puzzle to create the invoice directly in your ERP application without the need for manual entry.  Since most of this functionality is already provided by Office 365, we can offer our solution at a fraction of the price as the competition.
Learn more about our EasyAP365 solution and how Microsoft Flow with SharePoint can be leveraged.
By Mike Marcin, DynamicPoint
Office 365 Apps for Purchase, Invoice, Expense, & Portal that extend the reach of your ERP & CRM application.