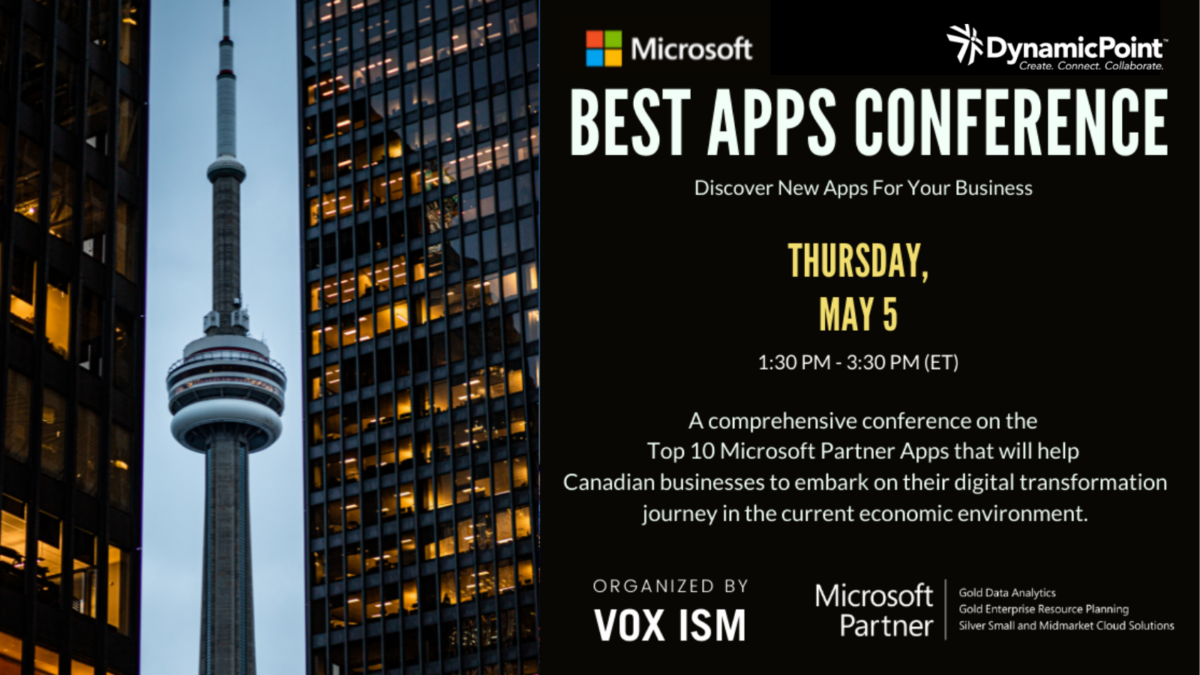 The Best Microsoft Apps Conference
DynamicPoint is a proud sponsor of the biggest Canadian Microsoft Partner event – Best Apps Conference, a webinar on Thursday, May 5th 1:30 – 3:30 pm ET. Continuous improvement has become the new normal for Canadian businesses in the age of COVID-19 and beyond. In this conference, the Top 10 Microsoft Partner Apps will be showcased. These apps help Canadian businesses to embark on their digital transformation journey in the current economic environment.
Event Agenda:
~ Conference kick-off by Jim Heaton, President, VOX ISM (Microsoft Triple Gold Partner)
~ Keynote presentation by Mike Fontaine (aka Manufacturing Mike)
~ Guest speaker Mike Marcin, DynamicPoint
~ 10 back-to-back presentations by Microsoft Partners on the Best Microsoft Apps for Canadian businesses
~ Q&A Session
You Should Attend Best Apps Conference If: 
> You are looking for new ideas, trends and applications to help support your growing business.
> Your business has changed since COVID, but your ERP and CRM system hasn't. It would be best if you now had mobile access, better security, better reporting, and a system that can keep up with continuous improvements.
> You are looking to invest in automation to reduce costs and labour in Finance, Manufacturing, Quality or Supply Chain departments.
> You are finding ways to unify relationships, processes, and data with connected, comprehensive, cloud business applications.
> You want to discover how to provide a safer workplace with tools to maintain productivity as teams work remotely.
> You want to learn how to get funding and grants to accelerate the adoption of new technology.
> You want to hear directly from Microsoft experts about hundreds of new applications, features, and capabilities of Dynamics 365 and Microsoft Power Platform 2022 release wave 1.
CATEGORIES
---
RECENT POSTS
---
PARTNER ORGANIZATIONS
---
DynamicPoint is a proud member of the Microsoft Dynamics 365 Community. Click the logo below to see our featured blog.