Would you like your team to spend less time on repetitive tasks and more time to concentrate on proactively driving your business forward? Thanks to Microsoft's Software as a Service (SAAS) model, Office 365 and Power Platform tools, your ideal AP solution can be built on top of nearly any database and connect with all the major applications out there. What's more, the initial expensive capital costs no longer exist and the barrier to get started is much lower than in previous years. These days, it isn't about proving the cost benefit, it is more about the willingness to change and automate your processes.
EasyAP365 is the affordable Microsoft Office 365 invoice automation app, streamlining accounts payable through flexible submittal methods, OCR, predefined templates, and integration to Microsoft Dynamics ERP solutions. Leveraging SharePoint's document libraries, email integration, and OneDrive storage, EasyAP365 supports secure, collaborative and paperless invoice processing through mobile, access anywhere and automated workflows.
SharePoint brings tremendous functionality and savings to the Accounts Payable Invoice Automation process, including:
Automation of invoice data entry with flexible submittal methods, from digital sources, including mobile, email and vendor portals.
Rapid allocation assignment by vendor, expense type, department and more through predefined templates.
An easy-to-use app with native integration to Microsoft Dynamics ERP solutions, developed by the Dynamics payables automation expert, DynamicPoint.
Leveraging the power of Microsoft productivity tools, automated workflows, OCR and SharePoint Online document storage.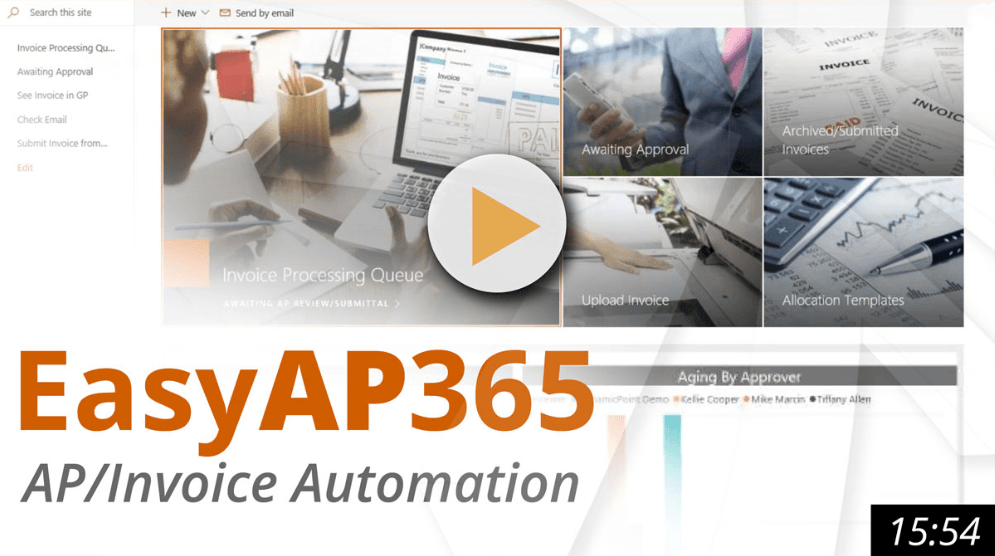 Learn More
Automating burdensome repetition is now easier than ever, with even larger benefits to your organization. Find out how you can free up your team so they can concentrate on moving your businesses forward: Watch a demo today. 
By DynamicPoint
Office 365 Apps for Purchase, Invoice, Expense, & Portal that extend the reach of your ERP & CRM application.