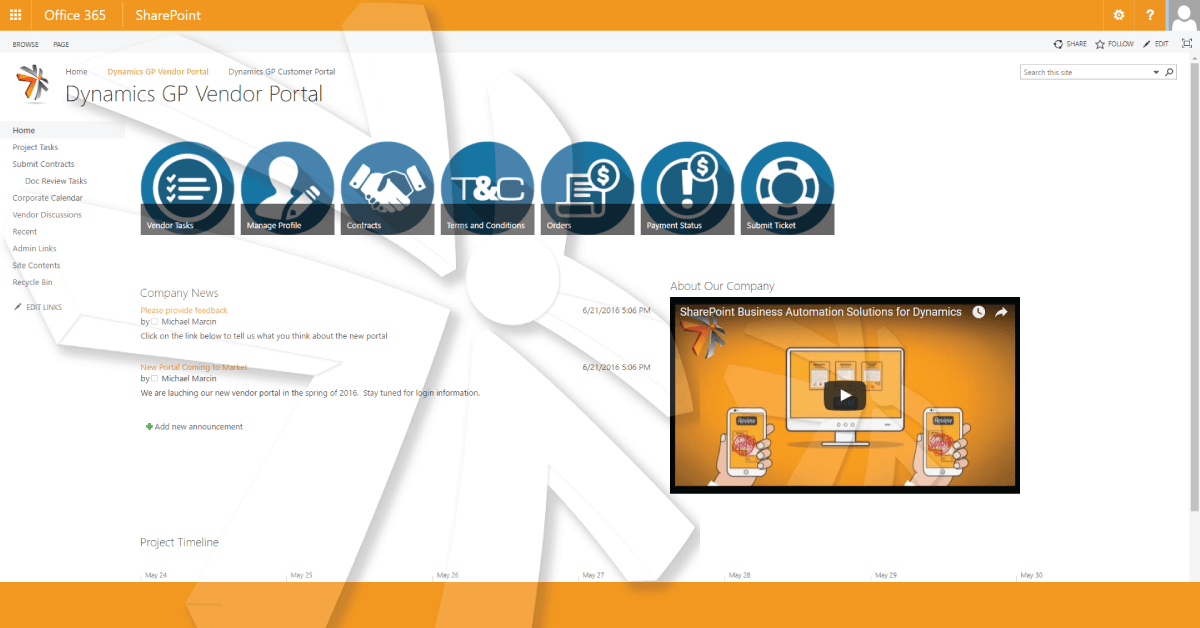 Features of a Customer or Vendor Extranet for Microsoft Dynamics GP & NAV
One of the many capabilities of SharePoint Online/Office 365 is to provide an extranet for use by your customers and vendors. It becomes a more effective experience when you layer in integration to Dynamics ERP and CRM solutions and deliver 24/7 access to information on demand. Eliminate the need to contact support or a customer care representative with the flexible and extendable nature of SharePoint integrated seamlessly with Dynamics AX, CRM, GP, NAV and Dynamics 365 with the following common uses: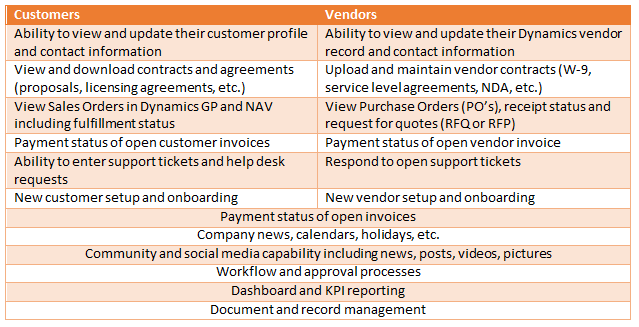 Why Use SharePoint to Build Your Portal
The main advantage of using SharePoint to deliver the functionality for your Dynamics ERP portal is that most all of the features outlined above can be delivered out of the box using just configuration. Some of the main areas of SharePoint that are used in the development of portals include:
Branding – Nobody wants their partner facing portal to look like it is just a generic template. That is why SharePoint allows you to change the look and feel to match your existing company branding
Content Management – Standardized web parts can be dropped on any page and security applied so your customers and vendors are seeing only the information that is applicable to them
Business Automation / Workflow – Approval processes can be associated to project tasks, contracts, documents and other items that require interaction between the various parties
Communities – With the standard integration with Yammer, SharePoint can provide a private social media platform directly to your business partners
Reporting – Partner performance metrics and other reporting and KPIs can be published directly to your customers and vendors
Authentication and User Management – Security is a big concern in exposing any of your company's information over the internet. Only authenticated users should be able to access the portal and you don't want to create a nightmare of maintaining their accounts. SharePoint Online (Office 365) simplifies this with the use of Microsoft Live Accounts. Partners can be invited to the portal and maintain their accounts using the Live Platform, alleviating you of the dreaded "I forgot my password" calls.
What are the Benefits of Using SharePoint Online?
The biggest benefit of using Office 365 and SharePoint online to deliver your extranet solution is that your organization doesn't have to worry about the procurement, maintenance and setup of the SharePoint servers. Also, all of the security requirements to prevent your portal from being hacked are management by Microsoft. Don't forgot the best part, external users don't require additional licenses (validate here to make sure you are following the rules!), so you can share your site with many external users without an impact to your software costs.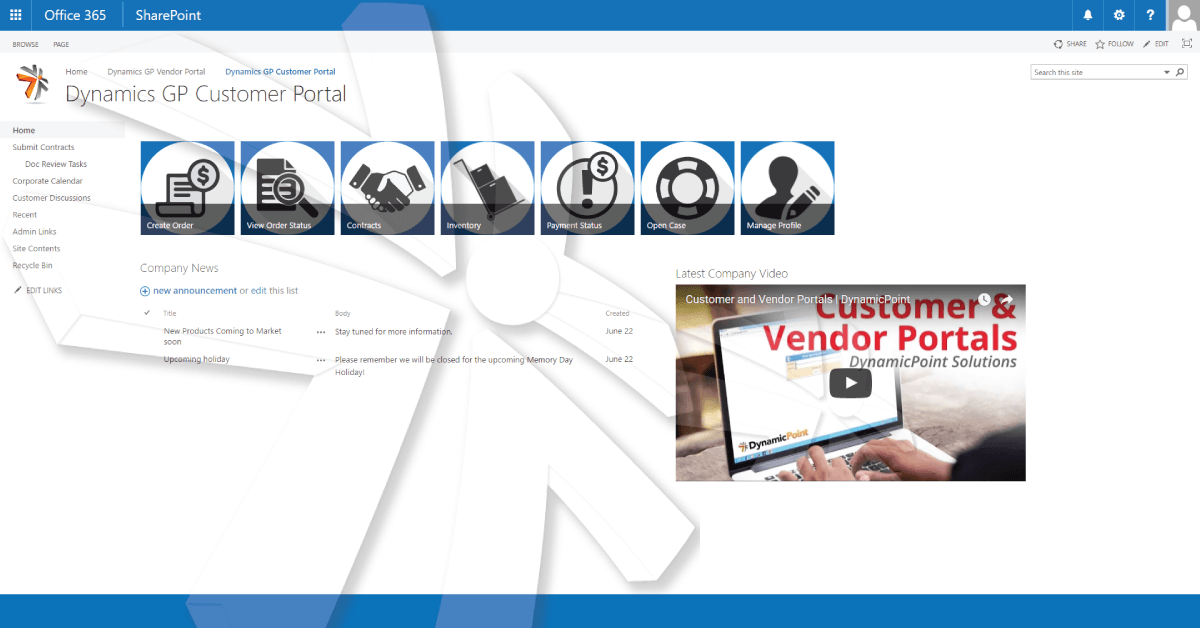 DynamicPoint Extends Your Dynamics Data Seamlessly to SharePoint
With all of the features available with SharePoint it brings to question how DynamicPoint fits in the mix. The answer is simple. We supply the integration with your Microsoft Dynamics CRM and ERP Solution. For both Dynamics AX, CRM, GP, NAV and Dynamics 365 we deliver immediate access to customer and vendor data residing within Great Plains and Navision, including such items as inventory, sales orders and purchase orders to ensure key data is easily assessable for the most effective customer service experience.
Learn More about Customer & Vendor Portals   Watch the Video!
By Mike Marcin, DynamicPoint
SharePoint Purchase, Invoice, Expense & Portal applications built exclusively for Dynamics ERP & CRM Solutions.